Grand Central Terminal Centennial Quilt Challenge: organized by American Patchwork & Quilting Magazine & The City Quilter in association, with the NY Transit Museum & the Metropolitan Transportation Authority
Excerpt from City Quilter's Website
http://www.cityquilter.com/Grand-Central-Quilt-Challenge.html
This quilt-making challenge celebrates one of the most beautiful & important buildings in the world upon the occasion of its 100th Anniversary this year. 
Naturally, we felt this called for fabrics to help celebrate!   Consequently, we developed two designs, "Grand Central" and a complement, "GCT Constellations," both in two color-ways, ivory and aqua.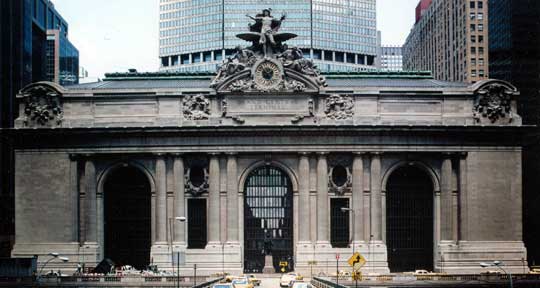 Quilts must be no larger than 36" X 36"
Prizes: Grand Prize is $ 2,000. First prize is a $250 City Quilter gift certificate; second prize is a $100 City Quilter gift certificate. Honorable mentions (9) receive a "City Bundle" of 6 FQ's of other New York-themed fabrics & the Complete Guide to Quilting.
Winners & finalists will be exhibited in the New York Transit Museum Gallery Annex & Store at Grand Central Terminal
APQ plans to write about the submissions & competition next year
25% or more of the quilt's surface must use one or more of our GCT prints.
Submissions must be made by August 21, 2013 to APQ
Up to 5 submissions per person/group

An application form that includes all the details on the prizes, rules & conditions can be downloaded via this link.   And this takes you to our Grand Central fabrics.
We provide this link to the GCT website so contestants can learn more details of the history of the Terminal. This Can be inspirational and help you interpret the theme into your creations.